How do we ensure Food Safety is a common question in any professional kitchen, whether it is a canteen in a hospital, retirement home, school or company, a restaurant, cafeteria, or a fast-food restaurant.
Kersia, as a global pure player specialized in biosecurity and food safety, has the ambition of "Inventing a food safe world". Our objective is to prevent diseases and reduce contamination risks in humans and animals "from farm to fork" by providing innovative solutions and a comprehensive portfolio of value-adding products. We support customers all over the world in the areas of food production, processing and packaging, agriculture, beverage industry and water purification & disinfection.
In a professional surrounding such as a restaurant, there is a high risk of micro-organisms spreading and contaminating food products due to a lack of hygiene and hygiene procedures.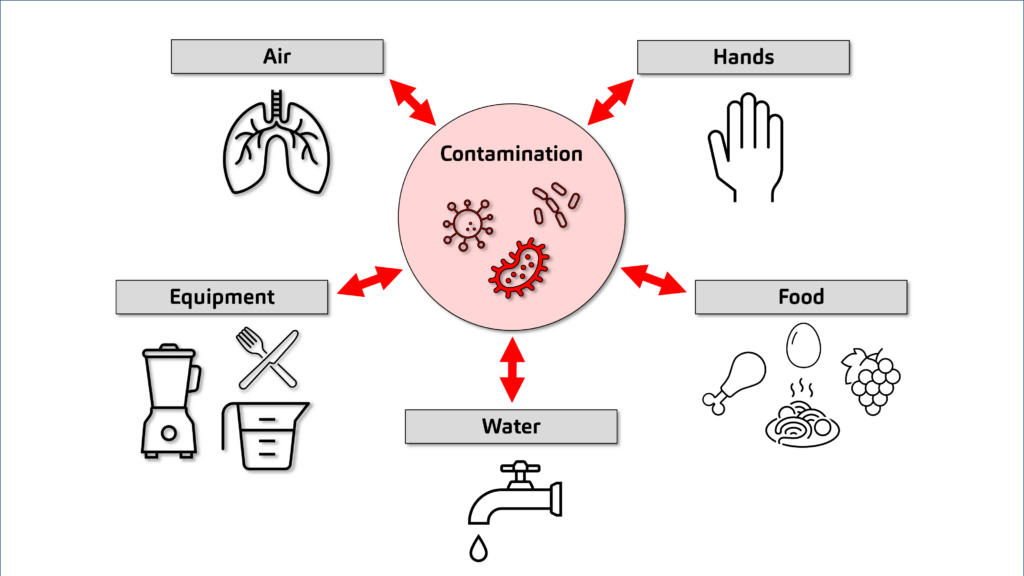 Facts & figures – Did you know?
→ approximately 30% of viruses contaminating hands passed through to the surface!
One of the most important but easiest to overcome transmissions occur by the staff – to be more specific by the hands of the staff. Due to the COVID situation, hand hygiene has become more important than ever to ensure food safety and employee health. Therefore, to set a focus on effective and reliable hand hygiene is so important:
Example : Cross-contamination thourgh direct and indrect contact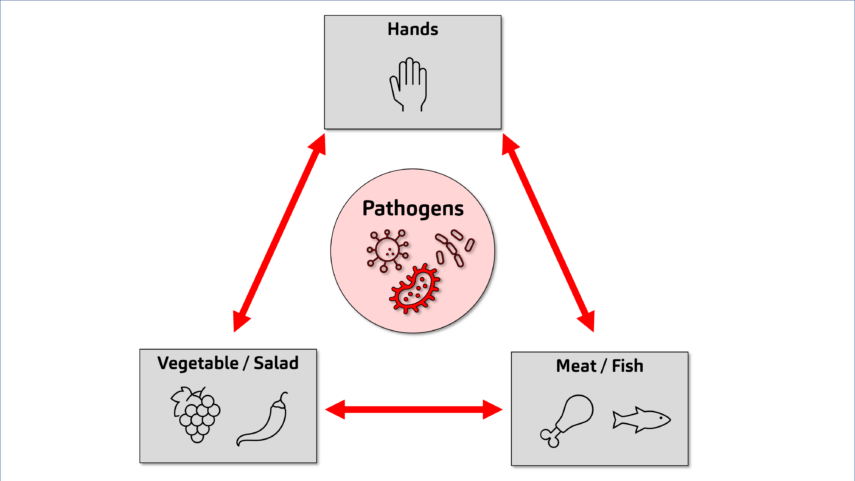 In a professional kitchen, when preparing different dishes, it is essential to create hygiene barriers to stop routes of transmission.
→ NO direct contact between ingredients which are not meant to be prepared together
→ No indirect contact between raw and cooked ingredients by means of hands & equipment
This is why the easiest and most effective measures is the installation and use of hand hygiene equipment and solutions at critical points in order to prevent the entry of pathogens and to reduce cross contamination vectors – two essential pillars in a complete hygiene plan.
Kersia – Your Hand Hygiene Expert in Catering
Kersia is an experienced and trusted partner "from farm to fork" and offers in all business units exceptionally hand hygiene programs and solutions. The goal of our programme is to:
Optimise hygiene performance in your restaurant
Preserve the quality of your food
Respect and preserve operators' hands
Protect the health of consumers and your employees
Protect your brand image
A complete and efficient hand hygiene consists of washing, disinfecting, and nourishing. When possible, all three steps should be offered to achieve the best possible result:
• Washing, in order to prepare hands in the best possible way for disinfection,
• Disinfection for the removal of pathogens
• Hand nourishing in order to keep the hand skin of the personnel in a good condition which encourages your employees to use soap and disinfectant regularly.
Whereas washing is limited to areas with a water supply, disinfectants can be installed almost anywhere. The ideal situation is to keep accessibility as easy as possible and to train your staff in hand hygiene protocols, which means hand washing and disinfection between all steps of preparation and between different areas. Kersia can provide training for hands hygiene and put at disposal posters to help your staff to keep the best practices for hands hygiene in mind.
WASHING

Optimizes Disinfection
Removes irritating residues left by the preparation processes to prevent occupational dermatitis
Contains gentle soap to preserve the skin's natural barrier
Use disinfectant soap to complete the Stage 2 disinfectant action
Dry well hands after washing and before disinfection

DISINFECTION

Eliminates micro-organisms and reduces risk of food contamination
The active ingrediencies offer a broad spectrum of activity for increased efficiency
No rinsing necessary to prevent the risk of contamination by water
Is not a substitute for washing hands

NOURISH

Prevents skin disorders to improve hand-cleaning. Optimum hand-cleaning lowers the risk of food contamination
Protects workers' skin
Helps to combat occupational dermatitis
1

WASH

SOFTY TOUCH'

HYPOALLERGENIC

In the food service sector,
workers often suffer from skin disorders: dryness, irritation, etc. Our aim
is to respect and protect your employees.

SOFTY TOUCH' is a
hypoallergenic soap, formulated using ingredients selected for their
excellent dermal compatibility.

+ Dermatologically tested

+ Close to the skin's physiological pH level

+ Excellent cleaning effect

+ Fragrance and colouring-free

DUO TOUCH'*

2 IN 1

DUO TOUCH' is a 2-in-1
soap which cleans and disinfects hands.

Bactericidal

EN 1276

EN 1499

EN 13727

30 sec.

30 sec. / 1.5
ml

30 sec.

Yeasticidal

EN 1650

EN 13624

30 sec.

30 sec.

Virucidal

(against
enveloped viruses)

EN 14476

30 sec.

+ Rapid disinfecting action

+ Bactericidal, yeasticidal and virucidal against enveloped viruses

+ Disinfecting action in the presence of interfering substances

+ Suitable for frequent use

+ Fragrance and colouring-free

HANDCARE

HANDCARE is a hand washing liquid soap, for removing residues on hands.

+ Excellent skin tolerance

+ Very good cleaning effect

+ Free of perfume and dyes

+ Tested under dermatological control

TROUBADOUR L

TROUBADOUR L is a liquid hand cleaner with exfoliating agents. It is suitable for strong dirts such as oils, greases, raw milk, or industrial soiling.

+ Exfoliating components made from nutshells

+ Respect skin pH

+ Contains moisturizing agents
2

DISINFECTION

Our hydroalcoholic disinfectants ensure optimal hand disinfection:

+ Broad spectrum of action: Bactericidal, Yeasticidal, Virucidal

+ Rinse-free

+ Ready to use

+ Fragrance and colourant-free

+ ORLIN SUPRADES HD is HALAL compliant

DISINFECTANT GEL*

Bactericidal

EN 1276

EN 1500

30 sec.

30 sec. / 3 ml

Yeasticidal,
Fungicidal

EN 1650

30 sec.

Virucidal

EN 14476

90 sec.

 

DISINFECTANT SOLUTION*

Bactericidal

EN 1276

EN 1500

30 sec.

30 sec. / 3 ml

Yeasticidal,
Fungicidal

EN 1650

30 sec.

Virucidal

EN 14476

90 sec.

 

ORLIN

SUPRADES HD*

Bactericidal

EN 1276

EN 1500

EN 13727

60 sec.

Yeasticidal

EN 1650

60 sec.

Virucidal

Limited spectrum virucidal efficacy (against murine norovirus
and adenovirus)

EN 14476

90 sec.
3

NOURISH

HANDGUARD

Skin protection cream for use in food processing plants. HANDGUARD offers protection by building up a breathable protective layer. Skin protection cream for work in an aqueous environment.

+ Free of fragrances and dyes

+ Suitable for all skin types
* Hazardous product. Observe the precautions for use. Use biocides carefully. Before use, read the product labels and information.
Information on our products can be downloaded here.
For questions, please contact your local representative or use our contact form on https://www.kersia-group.com/contact