Kersia's complementary feed range has been developed to meet the growing needs of the increase in organic farming.
Our complementary feed range has been especially created  to  ensure  a  balance  of  a  controlled  supply  of essential trace elements and vitamins, in order to improve your livestock's organic farm performance.
Kersia  has created 3 targeted solutions designed to support your  herd  throughout  key  stages  of  her  development.
At  birth,
At calving,
At drying off.
These  three  solutions  have  been  painstaking  developed  to  meet Kersia's high standards of quality and expertise.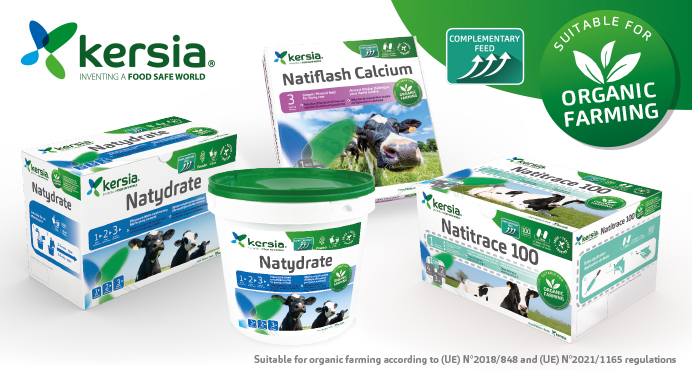 Natydrate : A rehydrating powder specially intended for calves at times of risk of digestive disorders
Effervescent formula highly palatable (oregano essential oil)
Rehydratation of the calf by stabilization of the electrolytic and hydric balance
Rapidly assimilated energy intake and quick return to milk diet without transition
Natitrace 100 : A long term supply of trace elements and vitamins from drying-off to calving
Controlled supplementation with trace elements and vitamins up to 1 month after calving
Supporting immune system function
Helps the regeneration of the mammary gland and contributes to healthy calves
Natiflash Calcium : An instantaneous dose of calcium for your cows
An immediate supply of calcium to the cow
Helps to reduce the risk of milk fever and subclinical hypocalcemia by delivering a quick and controlled-release of calcium
6 different sources of calcium to increase the bioavailibility and the speed of nutrient absorption
To be suitable for organic farming, all the products are in accordance with (UE) N°2018/848 and (UE) N°2021/1165 regulations.
Contact your local Kersia advisor for more details on the organic range.