In any professional kitchen, whether it is a canteen in a hospital, retirement home, school or company, a restaurant, cafeteria, or a fast-food restaurant, you act as a service provider by offering food to your end customer.
In this professional surrounding, there is a high risk of micro-organisms spreading and contaminating food products due to a lack of hygiene and hygiene procedures. This can have disastrous and costly consequences: food poisoning, bad impact on your brand image, food wasted through spoilage, loss of proficiency etc. That is why Kersia is offering its partnership, services and hygiene products to provide you all the needed support to guarantee food safety in your business.
Kersia – Food Safety is Our #1 concern
Since 2016, the companies Hypred, Anti-Germ, Kilco, G3, Medentech, LCB food safety, Choisy, Holchem, Sopura, Bioarmor and AgroChem have merged under the name Kersia – all of them specialists in hygiene in the areas of food production, processing and packaging, agriculture, beverage industry and water purification & disinfection.
As a global pure player specialized in biosecurity and food safety, our ambition is "Inventing a food safe world". Our objective is to prevent diseases and reduce contamination risks in humans and animals "from farm to fork" by providing innovative solutions and a comprehensive portfolio of value-adding products.
Kersia invests in innovation through continuous research and development to propose sustainable solutions for tomorrow by developing products which are highly effective:
but environmentally friendlier
are based on new modes of actions, such as enzymatic detergents or biotechnology products
and/or require a reduced water consumption
How do we ensure Food Safety in Catering?
Prevent day-to-day entry of the hazard into the high hygiene areas (e.g. food preparation areas, storage, etc.) by using effective barriers.
Ensure the food production infrastructure (building structure, equipment, and utensils) cannot harbour and, for microbiological pathogens, allow the growth of hazards. In addition, the food preparation or production area should not degrade to form hazards, e.g. glass, plastic or metal fragments.
Ensure preparation or production practices limit the cross-contamination vectors that can carry hazards from sources to food product or product contact surfaces.
Design an effective cleaning and disinfection programme that will kill or remove hazards that have entered the high hygiene area within the current preparation/production time frame.
Provide methods of monitoring and verification that provide evidence of the success of procedures put in place to manage hazards. This may be using visual assessment and check-sheets in food service to microbiological, environmental sampling programmes in food manufacture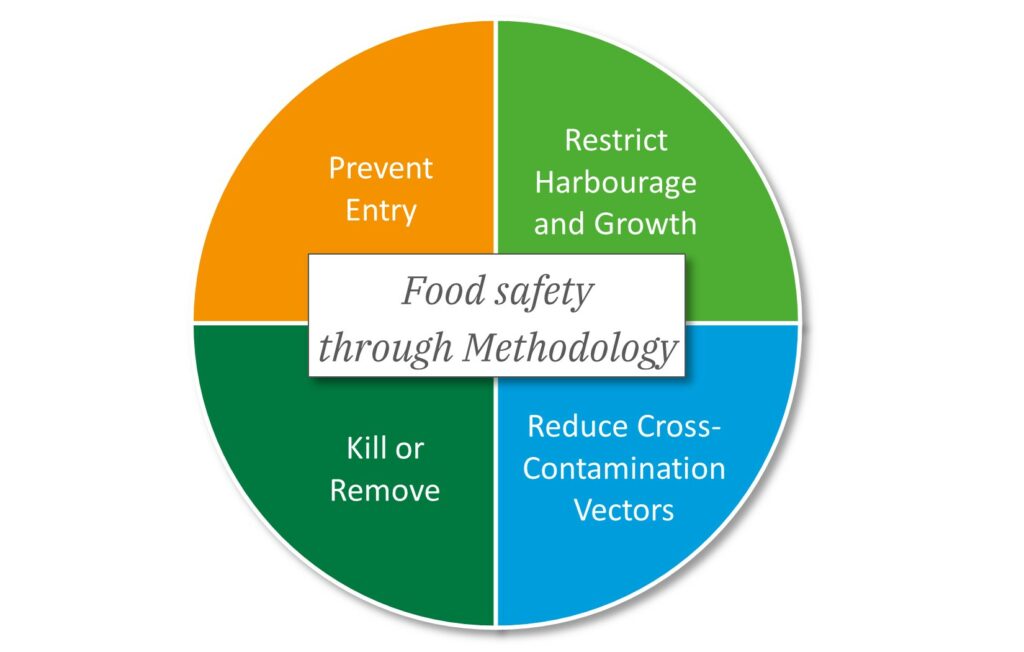 In Kitchen area, it is difficult to prevent microbial and allergenic hazards entering food preparation areas (e.g. through the raw ingredients).
In a central kitchen unit, all the functions of a restaurant (storage, unpacking, preparation, cooking, sink dishwashing, etc.) are concentrated in a relatively small area, with a wide variety of products (vegetables, meat, fish, fruit, and dairy products). Food is never sterile, and bacteria follow the route taken by the foodstuffs, operators, waste, packaging, etc., and there is a risk that they will accumulate and spread on the premises, cross-contaminating nearby products.
To conclude, in Catering the control of hazards is dependent on preparation practices to prevent cross-contamination and cleaning and disinfection method to frequently remove any hazards from the food preparation areas.
Kersia support you making 360°C Audit to understand and optimize your practices, and propose the best solution adapted to your need. We offer efficient and working solutions to reduce and anticipate the microbiological pressure and stay on your side with support and training for you and your staff to get good and efficient personal hygiene practices.
Kersia will help you to analyse and identify critical points and recommend a hygiene plan including all cleaning, disinfection, and protection steps and in different areas of a restaurant, accompanied by the best product choice, training, support and monitoring.
When stringent hygiene plans are put in place, you will fulfil the need of your customers by offering safe food, which in turn will lead to economic savings and protection of your brand.
Always keep in mind – Avoidance is better than cure!
Kersia – We are a partner you can trust!
For questions, please contact your local representative or use our contact form on https://www.kersia-group.com/contact