The farm, first link in the dairy chain
The demand of consumers worldwide is clear: to consume dairy products without risk. Milk provides an ideal environment for the development of bacteria and other pathogens and its safety is therefore a major issue for the dairy industry. For all stakeholders in the sector, a quality problem at the initial stage – the farm – can have repercussions along the entire chain, from farm to fork.
Kersia offers a comprehensive approach for dairy farmers with a complete service including auditing, advice for breeders, training for product distributors and the implementation of appropriate hygiene protocols and solutions for each situation, with follow-up on the results achieved.
Innovative and more environmentally friendly hygiene solutions focused on the milking process and milk storage, the animal environment and the water hygiene combined with complementary feed programs enhance animal health and resilience.
Milking hygiene
 Udder Hygiene
 Parlour hygiene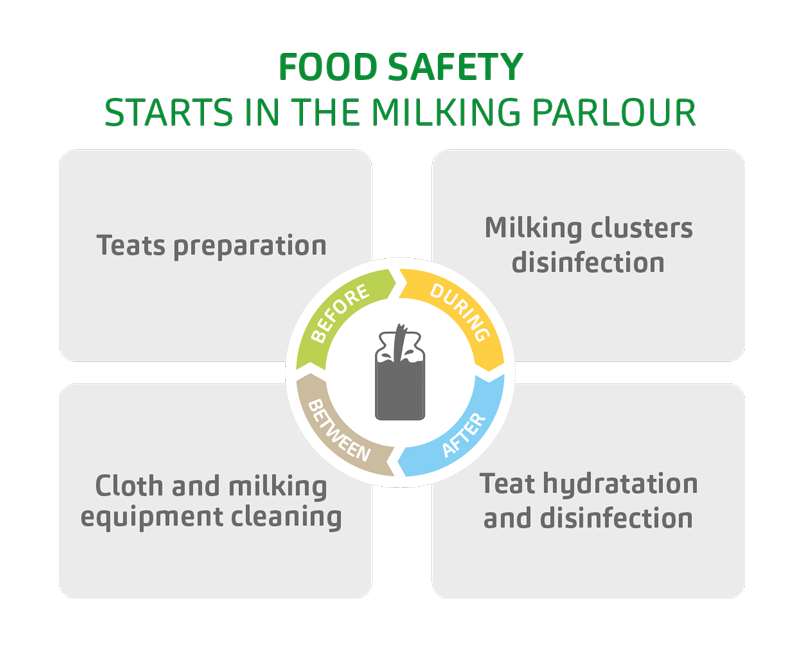 The milking cycle, a priority
Increasing herd size reinforces the need for a comprehensive preventive approach to hygiene and disinfection, to reduce the risk of infection and cross-contamination at each stage of milking:
Pre-Milking
Cleaning & disinfection of the milker's hands
Cleaning & disinfection of the teats to reduce the microbial pressure on the skin of the udder
Cluster Hygiene
Disinfection of clusters after each animal to prevent cross-contamination via the sleeves
Post-Milking
Disinfection of teats to avoid contamination in the environment
Hydration to ensure healthy teat skin
Parlour and Material Hygiene
Parlour and Material Hygiene
Cleaning & disinfection of the milking machine and tanks
Cleaning & disinfection of individual washcloths and all equipment in use
These good practices also save time: preparing the udder stimulates the production of oxytocin, a hormone that releases milk. Automatic spraying system or milking robots, more and more widespread, can also simplify operations and contribute to improved comfort for milkers, thus reducing the risks of musculoskeletal disorders.
Our Kersia experts guide you in choosing the solutions (bactericidal and fungicidal cleaning and disinfection products, application equipment, etc.), and methods of application (spraying, soaking, foam, etc..) suitable for each stage of the milking cycle and each milking routine and equipment.
Animal Care
Hoof Care to prevent lameness and skin infections
Prevention is the keyword
Hoof diseases such as Mortellaro are among the biggest cost factors on modern dairy farms. Prevention is the keyword here to keep infection rates as low as possible. Our experts can offer preventive solutions for lameness or skin infections that help to strengthen tissue quality and integrity. This improves the animals' welfare and their production performance.
Environmental Hygiene
Environment
Water
Healthy animals in a healthy environment for safe milk
Walls and floors are potential reservoirs of pathogens responsible for mastitis, neonatal diarrhoea, etc. Herd health, especially hoof and udder health, is closely linked to the hygiene conditions of the buildings.
Maintaining a high level of safety in breeding requires an effective hygiene protocol that reduces pressure from micro-organisms. Following an assessment on the farm, Kersia experts recommend hygiene programs to keep animals in a healthy environment and protective measures including Hand, Boot and Vehicle cleaning and disinfection to minimize the re-entering of harmful micro-organisms.
Also the water quality is key to ensure a safe production – it will be consumed by all animals and it will be used for cleaning and disinfection, a risk of wide spreading once contaminated. This is the reason why Kersia pays a particular attention to this part in the farms. Contaminated water not only leads to diseases, but it can have a significant impact on growth and productivity.
Environmental Hygiene
Standard cleaning and disinfection procedures in sheds and calf huts
Targeted disinfection calf huts (Cryptosporidiosis / Coccidiosis)
Bedding Powder / disinfecting litter
Personal Hygiene
Vehicle Hygiene (Transport / Wheels)
Water Hygiene
4 Step model consisting of:

Undertake water analysis
Clean pipes and drinkers, both internally and externally
Disinfect clean tanks and pipes from the inside, use a "shock-disinfection"
Complementary Feed
Calves
Dairy Cows
Kersia's COMPLEMENTARY FEED range supports dairy farmers to increase the WELL-BEING and the PERFORMANCE of their animals

: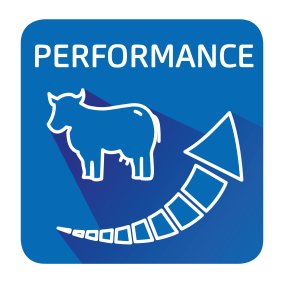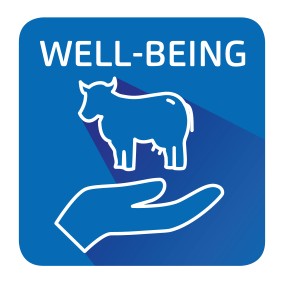 Diet plays an important role in livestock performance and well-being. High-performance complementary feed solutions contribute to the health security of ruminants. Nutritional supplements tailored to the strategical stages and needs of a herd will reinforce prevention:
Our expert range offers complementary feed products dedicated to different stages in the lifecycle of ruminants – either for calves or for dairy cows. They increase vitality of animals and provide nutrient supply to:
CALVES PROGRAM
Growth Performance
Digestive Well-being
Overall Well-being
DAIRY COW PROGRAM
Reproduction Support
Around Calving
Overall Well-being
 Metabolism & Digestive Balance
SOFTY TOUCH
A pH-neutral and dermatologically tested wash lotion which maintains the lipid protection of the skin. It is formulated with surfactants based on their excellent tolerability with the skin and special cleaning abilities.
DISINFECTANT GEL
A broad spectrum disinfection gel with bactericidal, fungicidal and virucidal efficacy. Ready to use without rinsing and suitable for frequent use.
DISINFECTANT SOLUTION
A broad spectrum disinfection gel with bactericidal, fungicidal and virucidal efficacy. Ready to use without rinsing and suitable for frequent use.
Fragrance and dye free.
If you have any questions, feel free to contact 

your expert